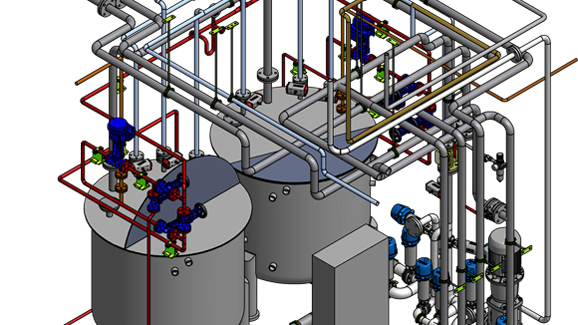 You want to modify your equipment or build new plant sections ?
We advise and support you from design through planning to the practical implementation of your projects. We develop innovative and efficient solutions in plant and mechanical engineering using 2D / 3D CAD techniques. We create the plant or project documentation according to the requirements and specifications of our customer.
With ENTRACON, your project is sure to be a success. Adherence to schedules is equally as important to us as planning and occupational safety and data protection. For over 20 years, we have been satisfying our customers and exceeding their expectations. That is our understanding of true professional partnership. In terms of safety, our employees are specially trained and experienced, so we will satisfy your expectations in this area as well. After all, in all the projects we carry out, the following always applies:
safety first, right from the development stage'
We guarantee you:
Competence in the implementation of your projects
Experience from over 20 years in machine and plant construction
Innovative possibilities through qualified personnel
Adherence to delivery dates
A customer-friendly service through high trasparency
Commitment by our own personnel
Creativity through always finding new ideas and solutions
Responsibility through clear competency structures
Reliability and high availability
Safety (already during the design phase)
Precision through latest CAD technologies
ITIL V3 certification
Plant engineering is a technical business field with the aim to realize technical plants. We are happy to support you with your project in the following areas:
Steel industry
Environmental technology
Brewing and beverage industry
Mechanical engineering
Pharmacy
Chemistry
Our services in the field of statics:
Preparation of the calculation model from technical drawings
Static strength analysis
Linear / nonlinear statics
Natural frequencies / vibration modes
Vibrations in time and frequency domain
Forming analyses
Optimization of design before start of production
Temperature field analyses
Kinematic simulation
Weight optimization
Talk to us, we will be pleased to help you with the realization of your projects.
We look forward to hearing from you.